The Problem With Frameworks
In my last post, I covered off framework agreements, and the advantages of using them for both government and suppliers.In this post I cover some of their less attractive features.
Frameworks act to moderate the way in which buyers test a market, which is all well and good, but they do have some problems.
They can suppress competition.
If you are moderating how you test a market, that instrument by its very nature, is going to have the potential to prevent and stymy competition. Unduly long frameworks and frameworks with very small numbers of suppliers are going to cause problems.
For instance, a ten year framework let to one supplier has the potential to create a monopoly position for that supplier. The buyer is effectively saying that no worthy innovation will happen in that market during the framework. As an instrument, frameworks are open to abuse.
There are too many of them.
Frameworks can be problematic for suppliers too: they have a tendency to proliferate. In 2007 we discovered that there were over 90 frameworks for recruitment in UK local government. There was more than one framework for every four councils. Many of these frameworks saw minimal business and created a burdensome bidding process for suppliers with no positive outcome. They were fishing licenses to empty lakes.
They lack transparency.
Frameworks are frustratingly opaque, partly because of practicalities, but also because administrations have been reluctant to try and police publishing of this data. Further competitions are usually only advertised to the suppliers on framework, and there's a good reason for this. Buyers don't want to give the wider market the impression that they can bid and win a contract that isn't open to everyone, however,  by not publishing this data, buyers also make it impossible to follow up and find out who won the subsequent award. So there is often no requirement to publish what is happening under frameworks, creating the potential for billions to be spent without any accountability.
Evidence of value is weak.
There really is no strong evidence that savings occur through the use of frameworks alone. The lack of transparency around frameworks obviously makes the job of evidencing savings much harder, but where we can see evidence of savings, it appears to be linked to the number of bidders on a further competition rather than the act of creating a framework.
In conclusion, framework contracts are broadly a good way to manage the process of running two stage competitions, but they are opaque, hard to analyse and prone to proliferation. Better data on their use and application could really help to improve their efficiency.
Here at Spend Network, we are proud of our global expertise in government procurement data. If we can assist you with your data or research needs, please get in touch.
April 14, 2021
UK Government Procurement Under Pressure
Yesterday the FT published an article, £19bn of UK Covid-related contracts awarded without seeking rival bids. The report reviewed the value of...
April 14, 2021
Selling to procurement: No One Cares About Your Product
Selling to procurement professionals is something that most people find frustrating, mainly because they are highly resistant to direct sales. Why? Well,...
April 7, 2021
8 Reasons Why Procurement Doesn't Need Blockchain.
Blockchain is fundamentally a database, but rather than a database where one item is allowed to replace another, each change to the...
March 25, 2021
Procurement Transparency Suffers Under Covid-19
Government publishing of procurement notices has fallen significantly following the global spread of Covid-19. The total number of tender notices published globally...
March 20, 2021
South Africa, Kenya lead the way on African transparency.
Both South Africa and Kenya lead the way in procurement transparency according to our data, South Africa and Kenya publish more tender...
March 16, 2021
Missing Data Is A Known Unknown
There is a famous quote about the fragility of knowledge by Donald Rumsfeld, the hawkish US Secretary of Defence during the Iraq...
March 4, 2021
NZ Government Pharmaceutical Procurement Review
The New Zealand Government is taking steps to improve its procurement of national medicine supply through a review process. The Pharmaceutical Management...
February 28, 2021
Do Framework Agreements Have Value?
-Ian Makgill Framework agreements are like umbrella agreements, and are usually made with a group of providers to supply a set of...
February 28, 2021
NSW Aims To Reserve Procurement Budgets For SMEs
We're always pleased to see governments around the world improving their procurement processes, by broadening opportunities for all types of business to...
February 28, 2021
Creating Synergy Between Politics & Procurement.
The need for administrations to act at pace is often at odds with the processes and procedures needed for good procurement. If...
February 28, 2021
Canada Launches Green Procurement
We are always pleased to see governments taking steps towards better procurement practices. Recently, the Canadian Government took a step forward for...
February 28, 2021
Not All Data Is The Same: Rules For Data Integrity.
-Ian Mackill Not all data is the same. It might have come from the same source, but how it gets treated is...
February 4, 2021
Post Brexit Procurement – What Will Change?
With the Brexit transition period officially behind us, it's worth considering the potential impacts of Brexit on Government procurement into the future....
February 28, 2021
Where Next For Data Led Procurement in Europe? A Discussion.
The They Buy For You  Project (TBFY) concluded on 31 December 2020. To mark the occasion, we look back at three years...
February 28, 2021
Spending $400bn – A Demanding Task For Biden.
-Fiona Hunt As my colleague Ian wrote this week, governments are increasingly looking to procurement to deliver better social outcomes. President Biden...
Newsletter
Compelling research, insights and data directly into your inbox.
Recent media stories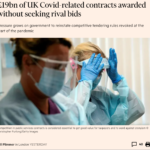 Financial Times
April 13, 2021