Spending $400bn – A Demanding Task For Biden.
As my colleague Ian wrote this week, governments are increasingly looking to procurement to deliver better social outcomes. President Biden began his term in office by implementing new rules in US government procurement around these very outcomes. These executive orders focus on local economic development and reducing carbon, both present significant challenges for the procurement profession.
Biden's new policies will include a revision of the definition of "American made", increasing the requirement for local content in every buying contract and helping SMEs get better access to bidding.
Biden promises these changes will see his administration "invest hundreds of billions dollars in buying American products and materials to modernize our….competitive strength".
Localising spend will be coupled with new policies to push for a clean-energy economy and carbon reductions, which will include a commitment to using 100% clean energy and zero-emissions vehicles.
But the federal government will be starting from a relatively low technical base, much of the data that is needed to both understand demand and to plan for new contracting is either tied up in individual systems, or not openly available. Our analysis shows that what is available suffers from familiar issues around data quality and poor publishing practices.
Building back better, needs to start with the national procurement data infrastructure.
Please get in touch if you'd like to know more about how to build procurement analysis services.
April 14, 2021
Selling to procurement: No One Cares About Your Product
Selling to procurement professionals is something that most people find frustrating, mainly because they are highly resistant to direct sales. Why? Well,...
April 7, 2021
8 Reasons Why Procurement Doesn't Need Blockchain.
Blockchain is fundamentally a database, but rather than a database where one item is allowed to replace another, each change to the...
March 25, 2021
Procurement Transparency Suffers Under Covid-19
Government publishing of procurement notices has fallen significantly following the global spread of Covid-19. The total number of tender notices published globally...
March 20, 2021
South Africa, Kenya lead the way on African transparency.
Both South Africa and Kenya lead the way in procurement transparency according to our data, South Africa and Kenya publish more tender...
March 16, 2021
Missing Data Is A Known Unknown
There is a famous quote about the fragility of knowledge by Donald Rumsfeld, the hawkish US Secretary of Defence during the Iraq...
March 4, 2021
NZ Government Pharmaceutical Procurement Review
The New Zealand Government is taking steps to improve its procurement of national medicine supply through a review process. The Pharmaceutical Management...
February 28, 2021
The Problem With Frameworks
-Ian Makgill In my last post, I covered off framework agreements, and the advantages of using them for both government and suppliers.In this...
February 28, 2021
Do Framework Agreements Have Value?
-Ian Makgill Framework agreements are like umbrella agreements, and are usually made with a group of providers to supply a set of...
February 28, 2021
NSW Aims To Reserve Procurement Budgets For SMEs
We're always pleased to see governments around the world improving their procurement processes, by broadening opportunities for all types of business to...
February 28, 2021
Creating Synergy Between Politics & Procurement.
The need for administrations to act at pace is often at odds with the processes and procedures needed for good procurement. If...
February 28, 2021
Canada Launches Green Procurement
We are always pleased to see governments taking steps towards better procurement practices. Recently, the Canadian Government took a step forward for...
February 28, 2021
Not All Data Is The Same: Rules For Data Integrity.
-Ian Mackill Not all data is the same. It might have come from the same source, but how it gets treated is...
February 4, 2021
Post Brexit Procurement – What Will Change?
With the Brexit transition period officially behind us, it's worth considering the potential impacts of Brexit on Government procurement into the future....
February 28, 2021
Where Next For Data Led Procurement in Europe? A Discussion.
The They Buy For You  Project (TBFY) concluded on 31 December 2020. To mark the occasion, we look back at three years...
January 31, 2021
Social Procurement Demands Data
-Ian Makgill Social value is going to be a critical feature of public procurement in the coming years. The urge to 'build...
Newsletter
Compelling research, insights and data directly into your inbox.
Recent media stories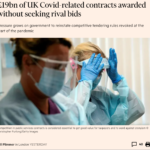 Financial Times
April 13, 2021