How do we gather data?
We harvest data from every major, public source every day. Each source is visited by our scripts, which carefully gather up the information your teams need.
When we gather data we make sure we gather every available row of data, which we validate thoroughly before storing it in our database. Once we've processed the raw data, we go through a process of mapping that data to a common, open standard and augmenting that data with additional information, including categories, addresses and language flags.
To find out about the data we can offer to you and your team, please get in touch.
Newsletter
Compelling research, insights and data directly into your inbox.
Recent media stories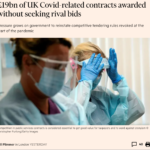 Financial Times
April 13, 2021